New version of Jiraffe 1.1.2
admin
It's already available in the market place the new version of Jiraffe, 1.0.2. In this version we have solved some errors and the management is better.
Now it's possible to reset the information to leave it as in the begging or as in some cases, if they haven't run the updated tasks. Some users weren't able to use the addon because the necessary tasks weren't executed. With this new window it's possible to leave the addon ready to use.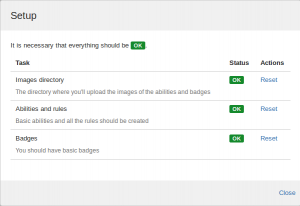 And some more as:
Many more events to capture and add points. Even though we know it's not enough, we will keep adding in each version more and more events that will bring more fun.
Customize of abilities, because we know that there are more groups that will use jiraffe that aren't developers.
Badges, if there is an effort there has to be rewards. And of course they are customizable, so that you can award the user for his effort.
It also corrects small errors, such as the license, that has been eliminated. We are convinced that soon the plugging will be good, but know lots of work has to been done.
We are already receiving lots of feedback of the users, above all we have added many more ways so you can give us your opinion in any moment.
Now you have feedback forms in all pages of the addon, also in the web and in the blog. Apart from the habitual ways such as twitter, facebook, the blog and also the email.
We also have a jira where you can follow the roadmap and follow the incidences, that we will keep putting.
We hope you enjoy with the addon and keep us informed with your opinions.